USUABILITY AND INTERFACE

NEW! Customizable Ribbon Interface
Users now have the ability to fully customize the Ribbon Interface. You can now Add and Rename Tools, Groups and Tabs. In addition, Tabs may be hidden or renamed, and manually created XML Config files can be directly imported into TurboCAD. UI Themes are also full supported in the Ribbon.


NEW! 4K Monitor Support
With new, scaleable vector icons, TurboCAD is now fully optimized for 4K monitors. Through dynamic sliders, toolbar icons, the User Interface and other icons in other part of the UI can be resized to optimize readability on higher resolution displays.


NEW! Named View Enhancements
New functionality has been added where users now have the option of associating Layer Sets with Named Views, giving users a much better way to manage Layers Sets.


2D DRAFTING AND EDITING
NEW! Select by Similar
This powerful tool allows users to select any 2D or 3D object type or a Block and then find all occurrences of that in the drawing. Very detailed selections can be made that include parameters such as pen color and style, brush color and style, layer, even the selected object's coordinate system. A great tool to use in conjunction with making further global changes to that selected object.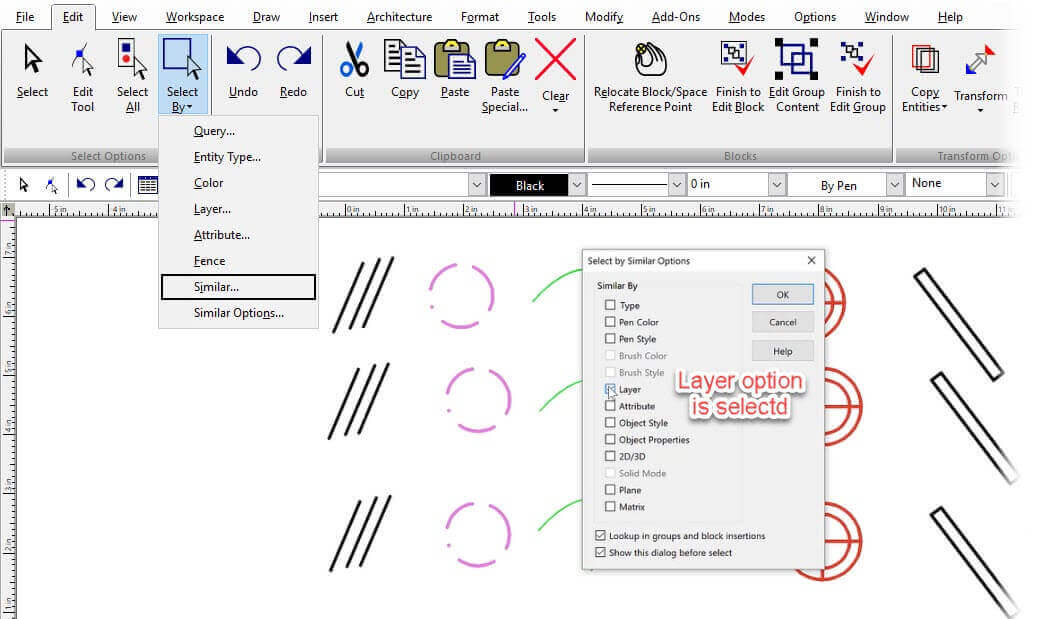 NEW! Construct Similar Tool
This tool which takes properties from a referenced object and applies these to the construction of the next object. This tool provides a fast and efficient method to assign object properties such as line fonts, dimension styles, and wall properties with a single click.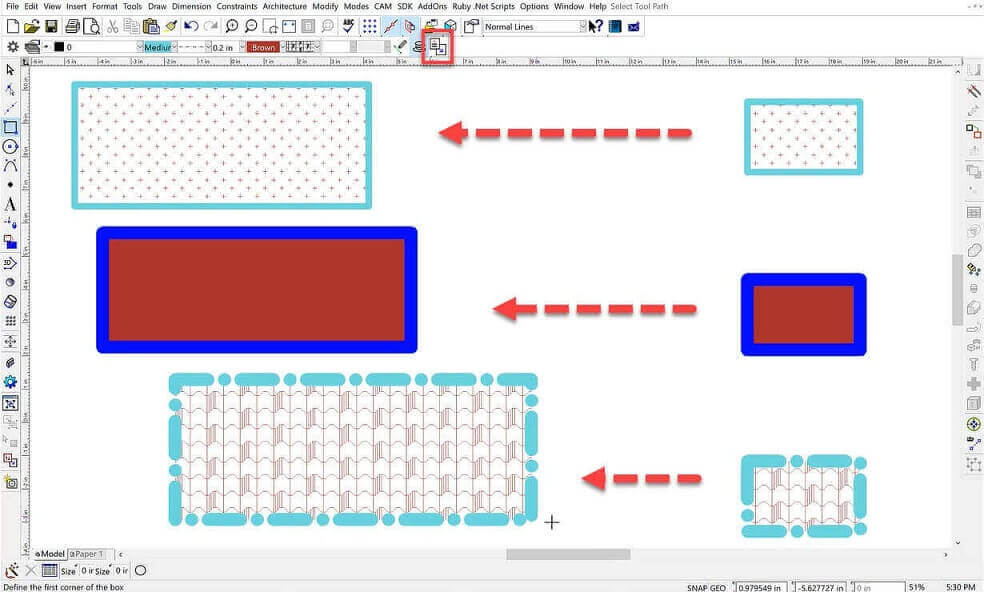 NEW! Remove Overlapping Entities
The 'Overkill' tool removes overlapping lines, arcs, text and dimensions, thereby allowing you to simplify drawings by removing duplicate, redundant Entities. Event viewer shows the count of objects that were changed.

NEW! Pick Point Hatch:
Pick-Point-Hatch now works with gaps in 2D objects. For example, trying to fill an area bounded by a Polyline, when there are gaps in the Polyline. Improvements to pick-point also apply to ADT objects (Walls, Doors and Windows), allowing to similarly fill in gaps between these objects.
3D DESIGN AND MODELLING
NEW! Blend Tool:
Three additional Blend types have been added to the Fillet Edges tool – G2 Continuous Curvature, Fixed Width and Three Face.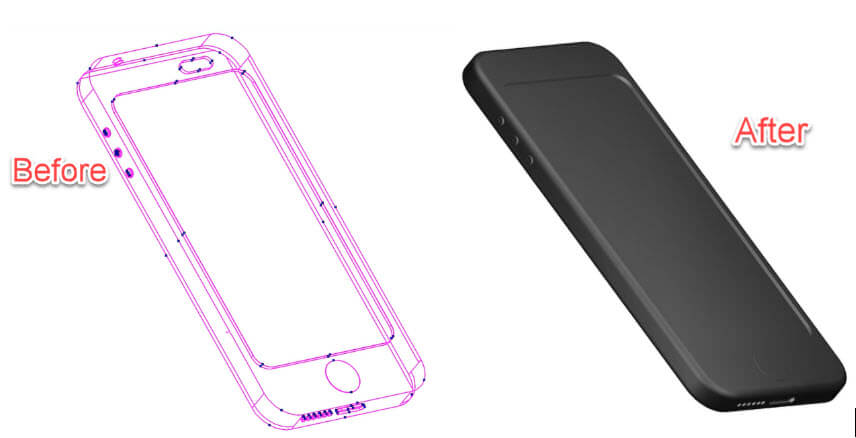 NEW! Sheet Metal:
Multiple improvements have been made to the Sheet Metal tools, including: a new Property have been added to the Flange Sheet tool – Draft Angle; several new options have been added to the Inspector bar when using this tool - Start and End Offset, Start and End Angle; accuracy improvements to the Unbend tool and the ability track progress of this ACIS® operation and interrupt it if desired results are not seen.
Video: Flange Sheet Improvements


NEW! Surface Extrude:
Users can now select flat 3D polylines or 3D curves for Surface Extrude tools such as Revolve. Also, 3D Curve and Curve (2D) are now separate tools.
ARCHITECTURAL DESIGN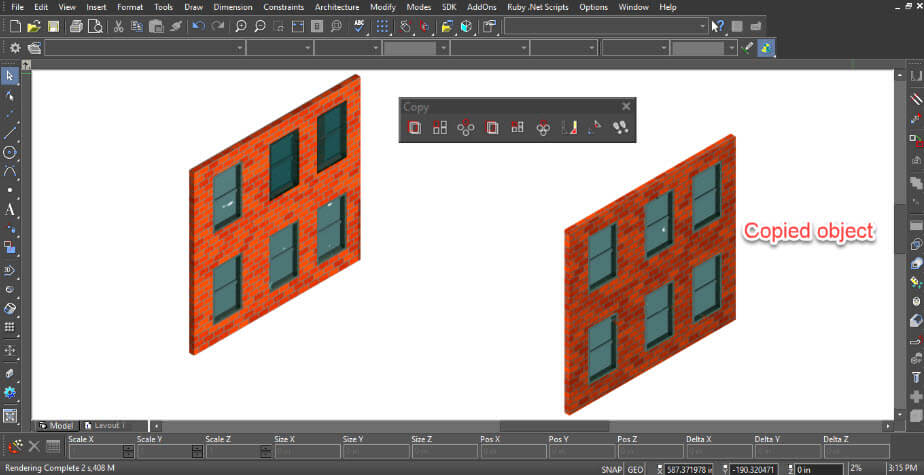 NEW! Architectural Desktop (ADT) Objects:
ADT objects can now be completely and accurately used with Copy and Linear Array copy tools. For example, the Array Fit Linear now takes into account all of the properties of the ADT object being copied, including Work Plane, Layer, Materials, etc. Previously, this tool could create only one roof object. Now, multiple objects may be created. In addition, the overall processing of all ADT objects in a drawing , including the House Wizard, has been significantly sped up.
NEW! BIM Tool:
Data collection of IFC files has been improved, the BIM Palette now shows the BIM file structure, and the BIM tool and BIM Palette's UI's have now been more tightly integrated, making these architectural modeling parts of TurboCAD easier to use.
RENDERING AND VISUALIZATION

NEW! LightWorks® rendering engine and Sun and Sky Shader:
The LightWorks rendering engine has been upgraded to v9.3. New properties "sun dir by geo-location" and "dir by geo-location" added to "Sky" and "Sun" shaders correspondingly
NEW! RedSDK to LightWorks Porting:
RedSDK rendered images are now more automatically, accurately and completely converted to a LightWorks rendered image.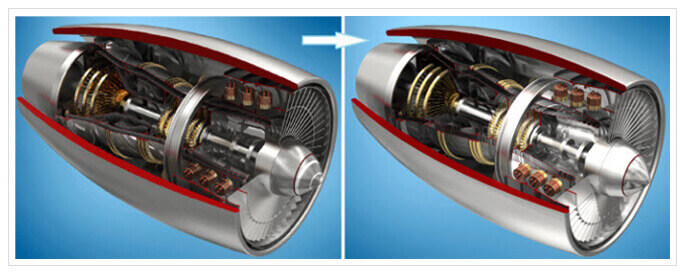 INTEROPERABILITY
NEW! AutoCAD 2019 Compatibility:
TurboCAD 2019 now fully supports AutoCAD DWG, DXF and DWF file formats.


NEW! STL Filter - 3D Print Check:
A 3D Print Check option has been added when exporting an STL file. This tool checks a part for common topological errors such as: non manifold edges, duplicated and collapsed facets, open edges, shells and more. The Print Check tool also displays geometry information such as extents, number of facets/vertices, area, and volume.