USABILITY AND INTERFACE
NEW! New Intelligent File Send
E-pack now includes an option to send your packaged data via email.
NEW! Image Management Palette
Simple drag-and-drop insertion, control of image parameters, and embedding.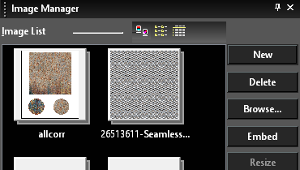 NEW! Table Editing / Attachable Data
Build tables by making (non-OLE) connections to .CSV and Excel files. Simply edit table layout, format, and content, now similar to Microsoft Word.
NEW! New Timestamp
For security and collaboration, file metadata now includes Date of Creation, Date of Last Modification, Total File Editing Time, and Total Time of Last Session.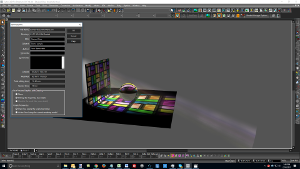 NEW! Options for Blocks
Display the name of a block whenever 'show multiple entities options' is turned on. Show selected block in the Blocks Palette any time an inserted block is selected.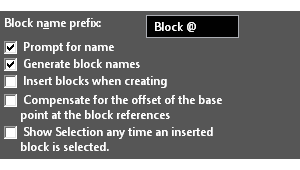 2D DRAFTING AND EDITING
IMPROVED! Intelligent Scaling
Create hatches, text, and dimensions that automatically scale to the current zoom level of the view.
NEW! Center Line and Center Mark
Create associative center lines and center marks.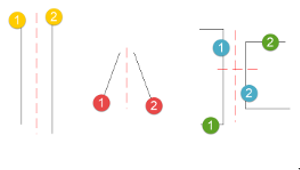 NEW! Relative Angle Field
Draw consecutive segments by specifying the angle relative to the preceding segment.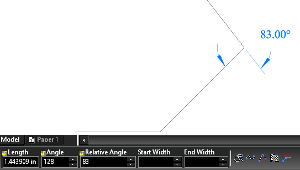 IMPROVED! Multi-Text Editor
New text editor interface with new formatting features and new options including numbered lists, bulleted lists, and multi-column support.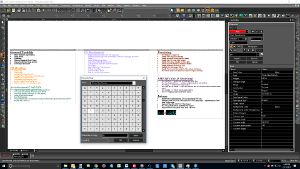 NEW! Scale by Two Points
Scale a set of objects to a specific size by using two reference points.
3D DRAWING, MODELING, AND EDITING
NEW! Bend by Sketch
Bend single or multiple flanges off of a sheet body using a 2D polyline as the profile.
NEW! Gusset
Easily add support structures to 3D models. Use the New Sheet Metal Gusset to insert a sheet metal gusset between two adjacent faces. New Solid Gusset can insert a Stiffening Rib between two adjacent faces.
IMPROVED! Law Tool Editor
Import and export Laws (Curve from Law; Surface with Laws; Offset with Law; Warp Entity by Law) from text files.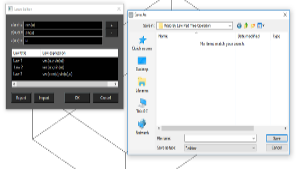 NEW! Stretch Entity
Stretch any ACIS solid along an arbitrary axis.
NEW! Twist Entity
Twist a solid object along and around the length of a designated axis.
NEW! NURBS Support
Guidelines for lofts can now be post-updated to modify the resulting loft. Now true NURB surfaces can be generated and edited in three axes.
IMPROVED! ACIS® Object Handling and Clean-up
The Remove Open Gap functionality of the Extract Entity tool has been extended with a New Remove All Open Gaps option. 
NEW! Unbend Options
New Get Bend Angles option to extract or insert bend angles as text when using the Unbend Sheet tool. New Unbend Along an Edge lets you selectively unbend elements of a sheet body along specified edges.
IMPROVED! Warp Entity by Law
Warping a 3D solid based on a mathematical formula can now be done with or without the Part Tree. This enables post-editing of -the warp parameters. 

IMPROVED! New & Improved SMESH Tools (Sub-D Modeling)
New Combine and join adjacent coplanar faces; merge SMESHs; add or delete facets from a SMESH; create a volumetric object from a planar SMESH. Improvements to node selection which can be limited to ignore all but the closest nodes, and faces can now be split by a selected line.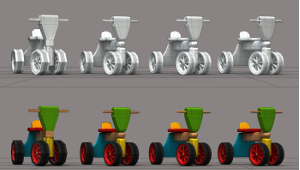 ARCHITECTURAL
NEW! Copying of Architectural Objects
Use the copy and array tools to insert a set of windows or doors into a wall for greater productivity.
NEW! Fit to Scale for Door and Window Custom Blocks
Automatic fit to wall width scaling of custom door and window blocks inserted into walls.
IMPROVED! House Builder Wizard
Create rooms on multiple workplanes for quick design of multi-story houses. 
NEW! Stairs by Linework
Create complex and advanced stairways via a set of 2D linework. 
NEW! Roof Slab Openings
Insert openings into roof slab for fast placement of vents and skylights.New Roof Slab Openings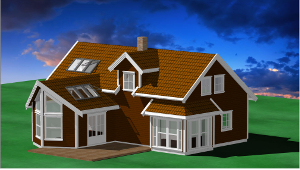 PHOTOREALISTIC RENDERING AND VISUALIZATION
NEW! Redsdk 4.2 Engine Migration
Improved photorealistic rendering with new shaders, more realistic materials, new expanded parameters to control anti-ailiasing, caustics for sun lighting, physical sky lighting, geo-located sun positioning, and volumetric effects.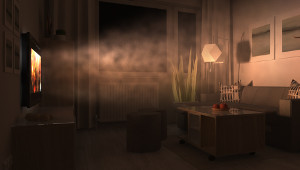 NEW! UV Mapping of SMESH Objects
UV mapping has been expanded to support SMESH objectsNew UV Mapping of SMESH Objects
FILE SUPPORT / INTEROPERABILITY
Improved AutoCAD® (DXF, DWG, and DWF) File Compatibility
Implementation of the latest Teigha engine.
 
Improved 3D PDF (including .U3D and .PRC) Export
Support for export of multi-material objects.
 
Improved SketchUp (SKP) File Support*
Import geometry, views, materials, and components from SketchUp files created in SketchUp Pro or SketchUp Mark versions 3.0 to 2017. * Please note – Trimble no longer offers the 32-bit version of their software development kit, therefore TurboCAD 2017 32-bit has no SKP filter.
 
NEW! Google Earth (KML and KMZ) File Support
Import KML and KMZ files into TurboCAD to view your designs in Google Earth independent of the web.
 
Improved Point Cloud (PCD, PCG, XYZ, ASC) File Support
Improved triangulation tool allows users to adjust the default parameter settings, offers an improved algorithm for facet normal determination, and a new smoothing option. Colored point clouds are also now supported.
 
NEW! Mobile App Support
Import and View TurboApp (TAP) files from one of our apps for mobile devices--TurboViewer, TurboReview, TurboSite, or DroneScout.