Place Models in Google Maps
Google Maps Plug-In for TurboCAD allows users of TurboCAD Pro for Windows to insert geo-referenced maps and their associated 3D terrains into TurboCAD models.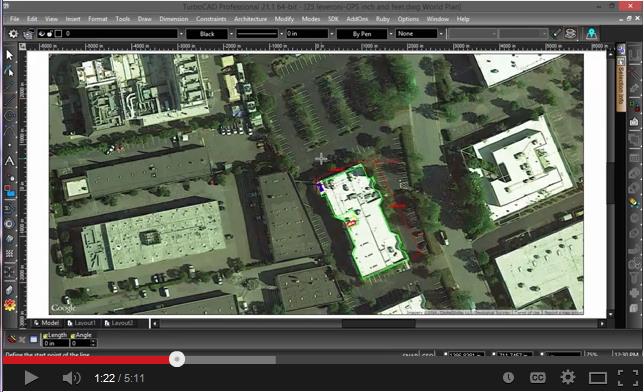 How It Works
Go to Options | Geo-Location to add longitude and latitude coordinates to your drawing. Click on the Maps icon to launch the Google Maps plug-in for TurboCAD. A satellite image of the location will appear. Simply zoom in or out. Switch from satellite to map view. Turn on or off street and building reference labels. You can even choose the 45º angle view. When you're ready, select the "Place Map" button to add the image to your TurboCAD model and you're done. It's that simple!
Easily Geo-Locate TurboCAD Drawings
If you don't have the exact longitude and latitude of your site, click the map icon and zoom in to the desired location. As you adjust the map, the geo-location will update.
Map Properties
Map properties appear in the selection info palette and include:
Map Type: Satellite or Map
GPS Coordinates: Longitude and Latitude
Show Center of Map: Check or Uncheck
Data Provider: Google
Entity Type: Plain or Terrain
Add 3D Terrain
With the Map's Entity Type adjusted to Terrain, you will have the ability to adjust the smoothness of the terrain, change the isoline step, or add more isolines.
Render your terrain, and with the Geo-Located Sun selected with shadows, you can see how shadows in the terrain affect your model.