USABILITY AND INTERFACE
NEW! Ribbon Interface: 
TubroCAD 2018 boasts a new variety of excellent user interfaces including a new RIBBON INTERFACE similar to that found in Microsoft Word and the latest versions of AutoCAD. It also features an updated CADCourse INTERFACE with accelerated keyboard shortcuts for all the commands. Further for traditional users the older CLASSIC INTERFACES type are included so that no matter which interface you prefer you will feel comfortable with the new program. Various types of THEMES are supplied giving you the choice of how you want to interface to appear. At the start of the program a pop-up dialog will appear allowing you to easily choose your preference.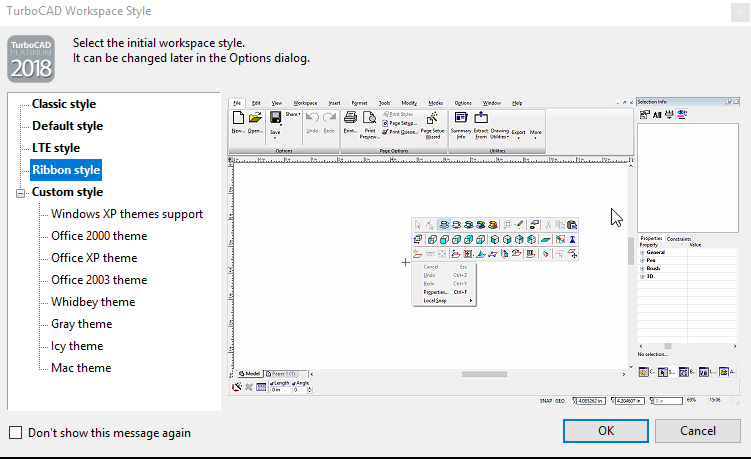 NEW! Keyboard Shortcuts:
Two, Three, Four or Five Key Keyboard Shortcuts
This brilliant new feature is set to revolutionize the way people use TurboCAD! Similar to the functionality found in other products such as Generic CAD or AutoCAD, the user now has the ability to set up keyboard shortcuts that consist of either two or more keystrokes to quickly invoke any TurboCAD command. These keystrokes are sequential and do not need to be a keyboard combination.
The sequence of keys is initially invoked by pressing and releasing the Control (Ctrl) key and then a set of subsequent keys to invoke the specific command. This effectively allows the user to keep the left hand on the keyboard in the right hand on the mouse massively boosting productivity.
NEW! Isolate and Hide Objects:
This terrific new feature allows you to take a complex drawing and to quickly reduce its complexity by allowing you to select certain entities and to isolate them independent of layers or groups. In this way you can focus on the entities that you're wishing to edit while avoiding overlapping or otherwise complicated entities. In addition to isolating certain objects you also have the choice of hiding additional objects so that you can focus only on the entities that are important during the editing procedure. When complete you can simply hit the Unhide option and the drawing will return to its previous state. Extents size property
NEW! Search Option for Locating UI Features
This excellent new feature allows you to quickly search for particular commands within the customize dialog allowing you to quickly identify either the command itself or its keyboard shortcut. This will greatly enhance productivity as you can easily customize your interface to suit your own needs by dragging the icon onto a familiar toolbar or to create a new customized keyboard shortcut that you will remember. You can type a word in the search field to cycle through the commands and materials. Buttons next to the input field highlight the previous or next suitable item. A search history is stored in a drop-down list allowing you to quickly search for that item again in subsequent. A search combo box is used is in materials, luminance, environment and advance rendering style.
INTEROPERABILITY
NEW! PDF Underlay Improvement
A new tool "PDF underlay to objects" has been implemented.
It gives the Ability to convert an Underlay into an editable object.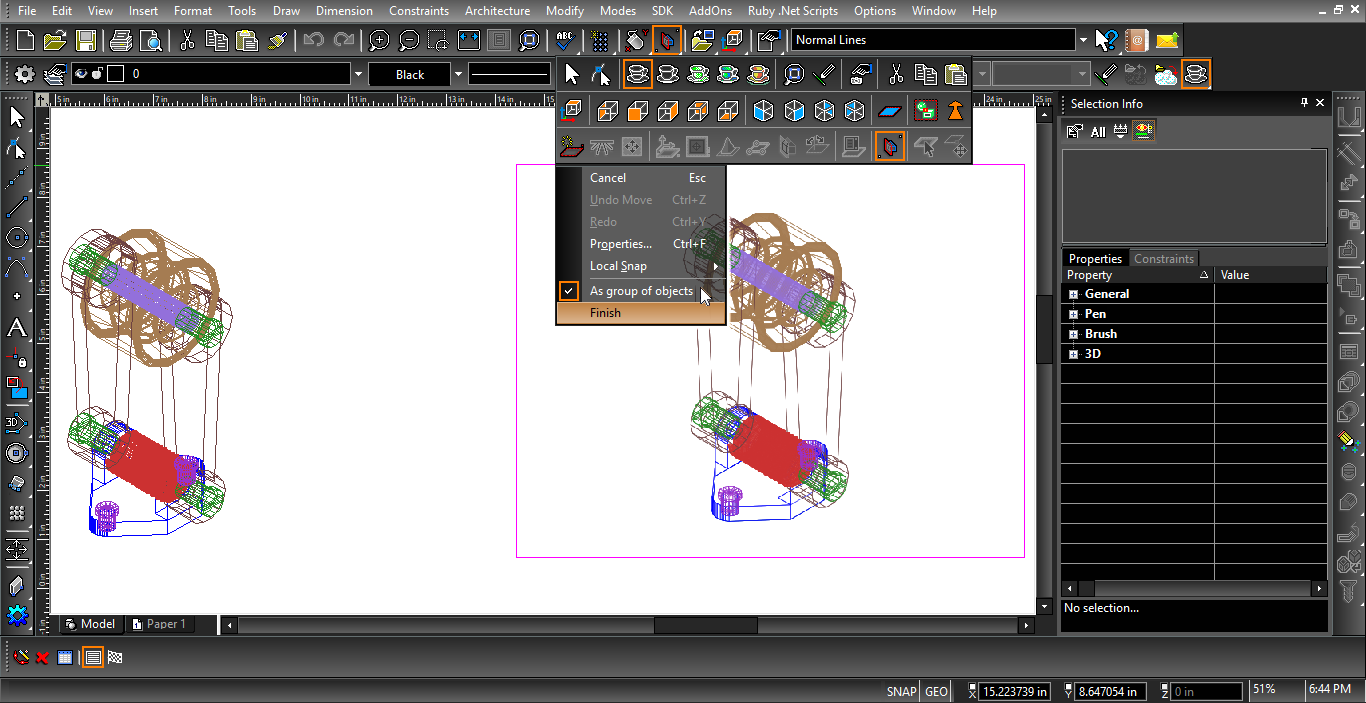 NEW! Database Table Improvement
The table generated by report now has the ability to update contents.
Create Table
Insert Table in the drawing
Update Association: To update the table with new entities. Select table and update the table using "Update association".
2D DRAFTING AND EDITING
NEW! PDF Underlay Improvement
The PDF Underlay tool allows you to insert a page of a PDF file into your drawing to use as reference or tracing layer. To use properly as a tracing layer, the file must be a vector PDF, rather than a bit-mapped PDF. AS a vector file, you will be able to snap to the endpoints and midpoints of lines in the PDF underlay.
Underlays consist of two parts: the underlay style and the underlay insertion. Before inserting an underlay you must first create an Underlay style, which is done through the Underlay Manager, found in the Tools menu of the Default interface, and in the Format menu of the Ribbon interface A new tool "PDF underlay to Objects" has been implemented. It gives the ability to convert an Underlay into an editable object.
In addition to importing a PDF Underlay as an Object, 2D Vector PDFs can now be directly imported as a vector file into TurboCAD. 
NEW! Snap Between Two Points
Snap between two points that once chosen allows you to snap to the middle of two subsequent points, saving the effort of snapping to the center of a two-point construction circle, and then deleting the circle afterwards. Select by Entity Type Update
NEW! Thick Profile tool
Applying thick profile tool with defined width and corners type options to groups of entities of lines/polylines/circles/arcs on plane. It automatically calculates thicken profiles according to width defined for original entities. It results in set of polylines, set of connected polylines (these two options are for TurboCAD versions withour ACIS), region or set of sheet ACIS entities (those two are for  Pro version)
NEW! Flatten Tool
Use the Flatten tool for 3D polylines and 3D splines to make them flat on the work plane. This command zeros out any Z values for the defining points of these entity types allowing them to be used in a 2D environment.

NEW! Trim by Entity
This interesting new command allows trimming of multiple entities by using a single 2D close profile as the cutting edge. All objects within the defined profile are trimmed and removed. This allows you to avoid having to select multiple objects to trim to just one cutting edge. 
NEW! Pick Point Hatch Improvement
The pick point Hatch tool now has the ability to forgive small errors in design in that if a boundary line is not 100% closed you can specify an error margin distance so that the hatch command will automatically fill in the difference. This "error margin distance" is adjustable in the "Gap" value in the inspector bar and will greatly speed up hatching procedures as 100% accuracy in regard to closed curves or polylines is now optional.
3D DESIGN AND MODELLING
NEW! Quick Pull for surfaces
Use the Quick Pull tool to pull or push a closed 2D area of a 3D object (TC Surface) by extruding.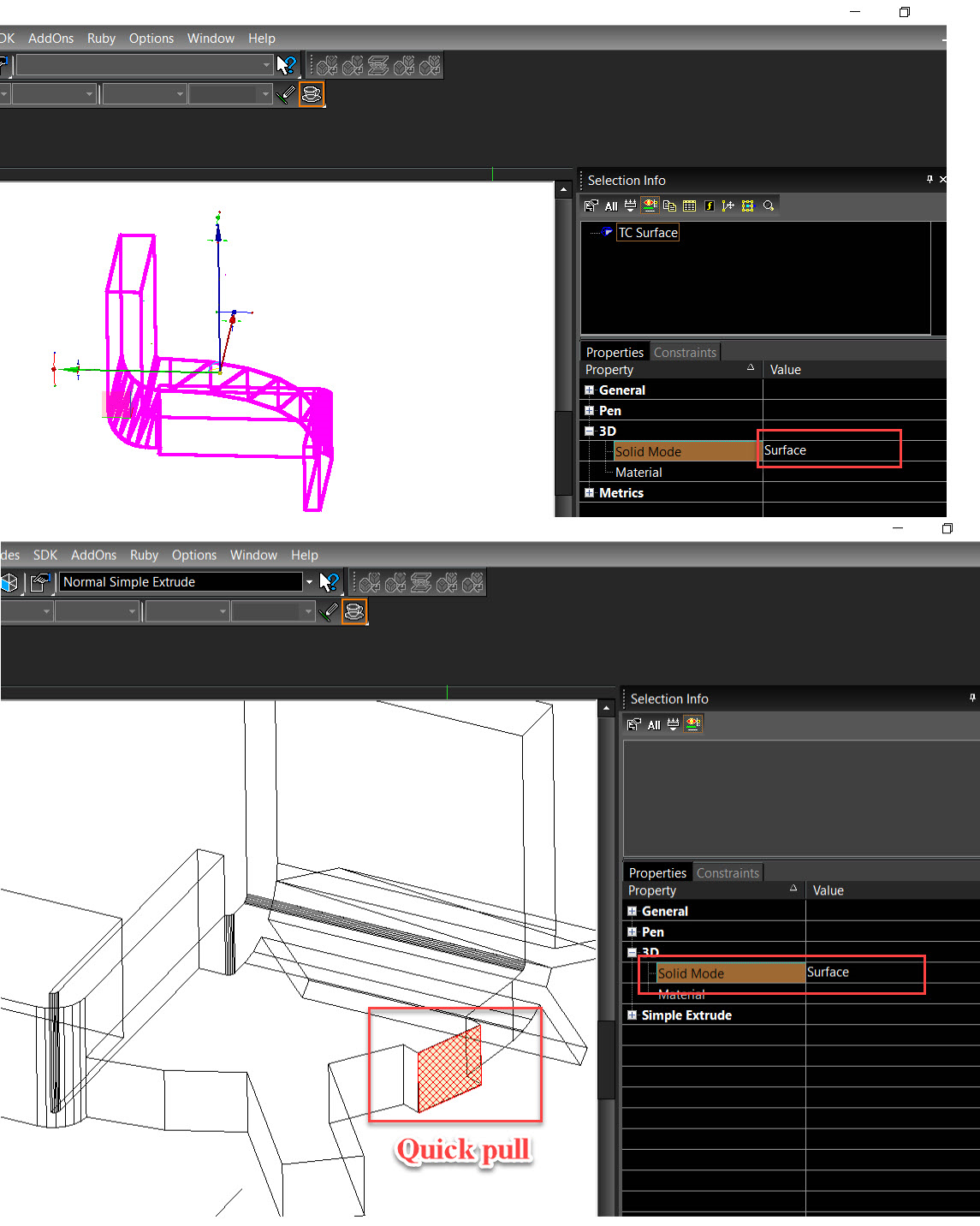 NEW! Improved Coordinate Measure tool to include 3D
In earlier versions of TurboCAD, the Measure Coordinates of the Point tool could only measure the X and Y values as it functioned like a 2-D tool fixed on the active workplace. Now, the measure coordinates tool behaves more like a 3D tool in that will show the 3D coordinate of the World coordinate system independent of the active user coordinate system.
NEW! New 2D Create option
New option for "Create 2D" has been added for 3D polyline, 3D Spline tools. When you switch on this option, and polyline(spline) is flat then a 2D object is created instead of 3D. 
ARCHITECTURE AND CONSTRUCTION
NEW! Relative Angle Fields for Wall and polyline update
While drawing walls or polylines, you can now choose to enter an Angle (which is absolute in relation to the world coordinates) or a Relative Angle which is the angle from the immediately previous segment (arc or line). 
NEW! "Add Roof by Walls" Tool Improvement
Previously, you could create only one roof object. But now there is the possibility to create more than one roof.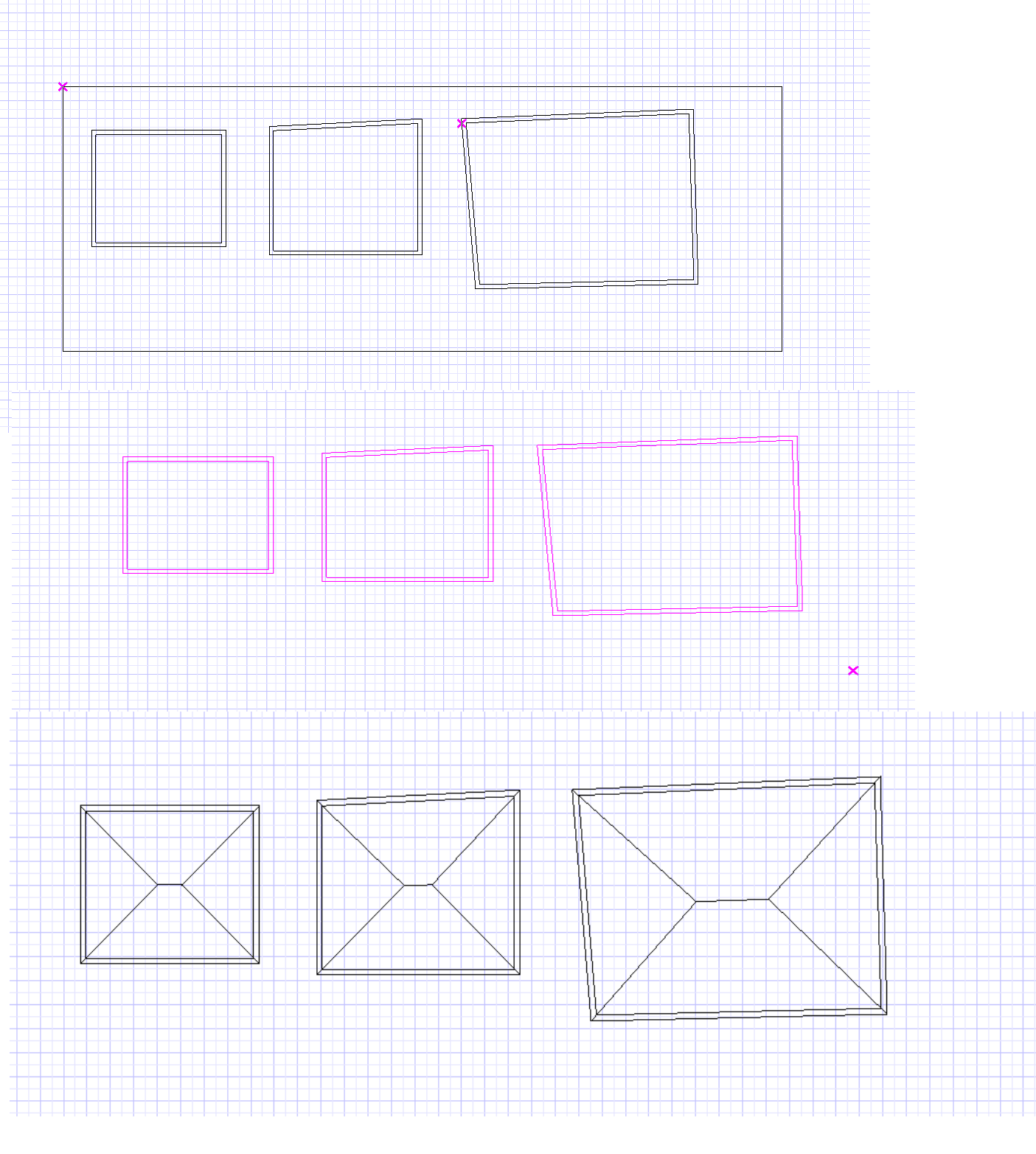 RENDERING AND VISUALIZATION
NEW! LightWorks 9.1 SP5 
The LightWorks rendering engine is now once again included in TurboCAD and will no longer be an optional plug-in. TurboCAD 2018 includes LightWorks 9.1 SP5, which includes the following improvements:
Environments: Scaled Image (Foreground/ Background):

Sky: Type: user-defined sky

Render Styles: Enchancements like "Lights only" for Lens flares, ability to minimize/maximize radius of Bounce and Gather, modify the intensity of Final Gather Controller for blurred shades, and Soft Pencil sketching are introduced in Render Styles.
NEW! Status Bar Memory Display Update
Once you initiate any Rendering mode for a selected object; the TurboCAD status bar now displays the respective memory usage along with the processing time.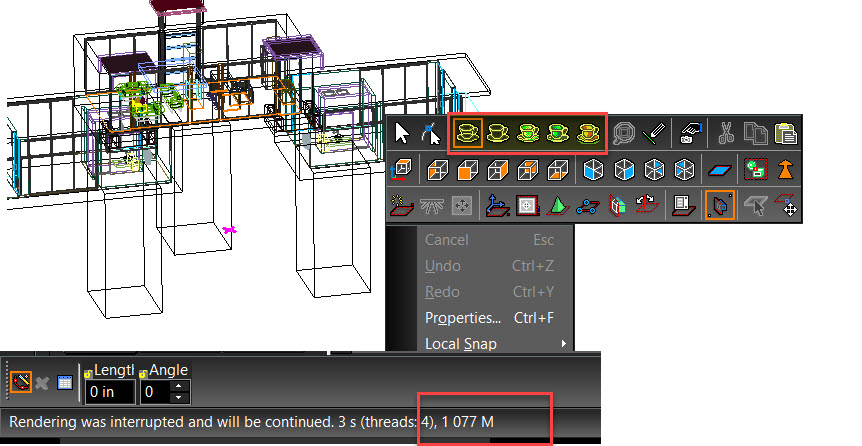 FILE SUPPORT / INTEROPERABILITY:
File Sharing with AutoCAD® 2018 : Updated DWG and .DXF file import and export

3MF Export Support: TurboCAD Pro Platinum 2018 now supports export of the 3MF file type used in Manufacturing.

3DS Filter Improvements. Issues of lost materials and lost texture coordinates are now fixed. 
OTHERS:
NEW! Audit System
A new "Audit" item has been added to the Filters menu of the Selection Info Palette. This Audit System enables you to highlight 'bad' objects in Selection Info palette, turn on/off audit conditions and change their parameters, generate audit report for one or more objects, filter 'bad' objects in Selection Info palette, send notifications (about a 'bad' object) to Event Viewer palette.


NEW! Extents Size Property
The Extents Size parameter has been added to the Selection Info Palette properties. Extents Size parameter works with groups, blocks and insertions. You can now use the 'Extents size' property to select entity according to size valuation. Select objects that you think are big or small, or an object in any range you want. The Extents Size update provides you with additional flexibility so that you can use this parameter for various needs and for analyzing possibly corrupted "wrong" entities.


NEW! Image Manager Improvement
You can now select Multiple files from Open Dialog box when importing pictures in the Image Manager palette.


NEW! New Zoom Diagnostic Message
A new message has been added. It appears when the user tries to zoom in or zoom out beyond the maximum zoom factor or limit. 


NEW! OK and Cancel Buttons Added to Insert Fraction Dialog Box
Improved usability by the addition of OK and Cancel buttons in the dialog box of the Insert Fraction in the Text Editor palette.


NEW! Select by Entity Type Update
Now Circle/Ellipse item of previous TC versions is separated into two cases: Circle and Ellipse. The same is for Circular and Elliptical arcs. Previous versions could not select Circles or Arcs separately.