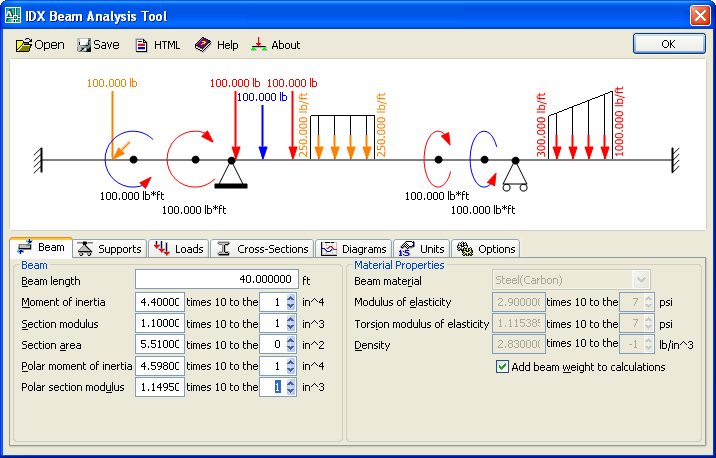 The Beam Analysis Tool opens in its own window within the CAD application. The default settings use imperial units with a beam that is a W_10x19 Wide Flange Steel Section, 30 feet in length, with a 100 pound point load in the middle. It has a Fixed End support on the left and a Roller support on the right. From there you can change the length of the beam, add supports and loads (including torsion), and see all effects.
The next several pages include details about Beam Analysis Tool.
Supported Platforms
The Beam Analysis Tool is available as a plug-in for TurboCAD Pro v20. The tool requires a licensed copy of the base CAD platform running on a supported operating system. TurboCAD system requirements for your version to determine support for Windows XP, Windows Vista, Windows 7 and Windows 8 versions.
The Beam Analysis Tool requires an additional 14 MB free disk space.
Known limitations:
The version running on TurboCAD Pro 20 can read/write and exchange intelligent beam objects in drawings saved as TCW, and DWG file formats. All versions of the Beam Analysis Tool support the same intelligent beam object XML exchange format and write to the same HTML style pages.